Fyi: this post may contain affiliate links
I don't know about you but I love holidays. No work, yummy food, hanging out with my family…what's not to love? Although I'm an introvert, I still enjoy the large gatherings and everyone talking and laughing and enjoying each other. Crazy, right?

Even so, sometimes it gets pretty overstimulating. You guys might have noticed that I was mostly MIA over Thanksgiving–no blog post, very little social media engagement. Well, today is the day that I tell you why and give you my tips for managing.

There's something about loud, chaotic environments that I enjoy…for a little while. After that first hour, however, my brain and body go on strike. My mind shuts down–all I can think is "I gotta lay down, I gotta lay down. Too much!" I guess that's all it's got energy to say.
I start to feel completely exhausted, can't think clearly and feel like I need to sleep for the next week to recover. I always thought that this was just a symptom of being introverted. Then I learned about the highly sensitive person and it changed my life.

Growing up, I learned that I was too sensitive. Well meaning family members, friends and classmates told me, "Tia, you've got to grow thicker skin!" "Stop wearing your feelings on your shoulders." and of course, the classic and simple, "Girl, you are toooooo sensitive." Being called sensitive didn't seem like a good thing so I developed a belief that being it meant that something was wrong with me– that 'sensitive' was a nice way of saying 'weak.'

Along with being easily hurt, I was also really timid and shy, terrified of getting into trouble, overly empathic with everyone, and phobic of conflict. I was easily overwhelmed by chaos and time crunches, loud environments or getting too hot.

Because of these challenges, I developed a reputation at family get-togethers for my disappearing act. At some point, I can't handle the noise or chaos anymore and I find a quiet place I can lay down for a bit. From the next room, I could always hear someone looking for me and another person answer, "ah, she'll be back at some point." I have trained them well Muwahahahahah!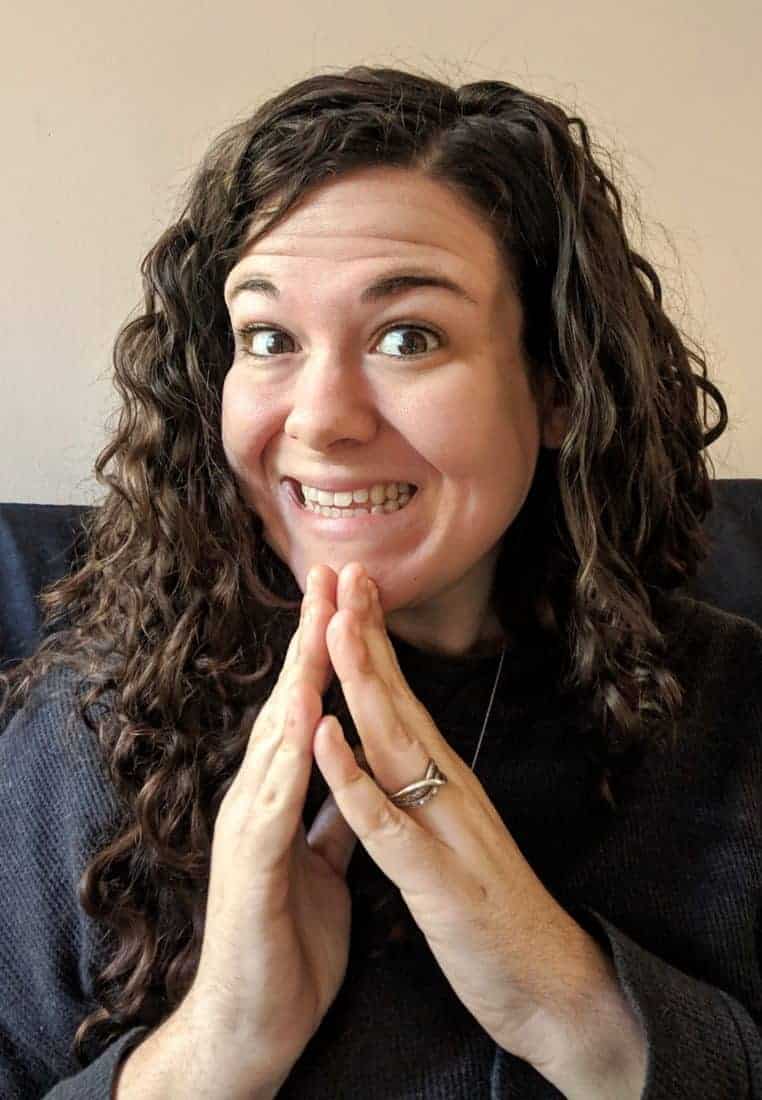 As an adult, I found out that 20-ish% of the population are highly sensitive people and that all of the challenges I experienced growing up are part of what it means to be highly sensitive. This 20-ish% of people have a 'differently' wired nervous system that is more reactive to subtle changes in the environment. We are more likely to notice trouble brewing in those around us well before the other 80% has caught on to anything being different. If you think about it, it's actually a pretty adaptive response.

I mean, if you're in a situation that could be dangerous, wouldn't it be beneficial to have a person around who is capable of spotting subtle changes in the environment? You'd be more likely to spot a problem while you still have time to do something about it. I take that to mean highly sensitive people are basically superheroes. Right?!

We're basically Supergirl
The glasses ⬆ are just my cover story 😉
We also tend to be really creative, empathic, peacemakers. It's an unfortunate side effect that because you notice subtle changes in any surrounding, the loud, chaotic environments can get over stimulating fast and feeling all of the emotions can become really overwhelming when you feel yours aaaannnnnnnddd everyone else's around you, too.

That's what happened to me over Thanksgiving. We had two Thanksgiving celebrations, Black Friday Shopping (I know, I'm basic. It is what it is.), and a Christmas party for all the friends (yes, I'm aware that it's still November). By the time the Christmas party rolled around and 20+ people were laughing and yelling and enjoying themselves gathered in my parent's living room of their normal sized house…I was done.

Lucky for you, I have some great strategies that I use to take care of myself when I reach that point. It's like self care for the Highly Sensitive. Or, Self Care for Highly Sensitive Over Stimulation…yeah.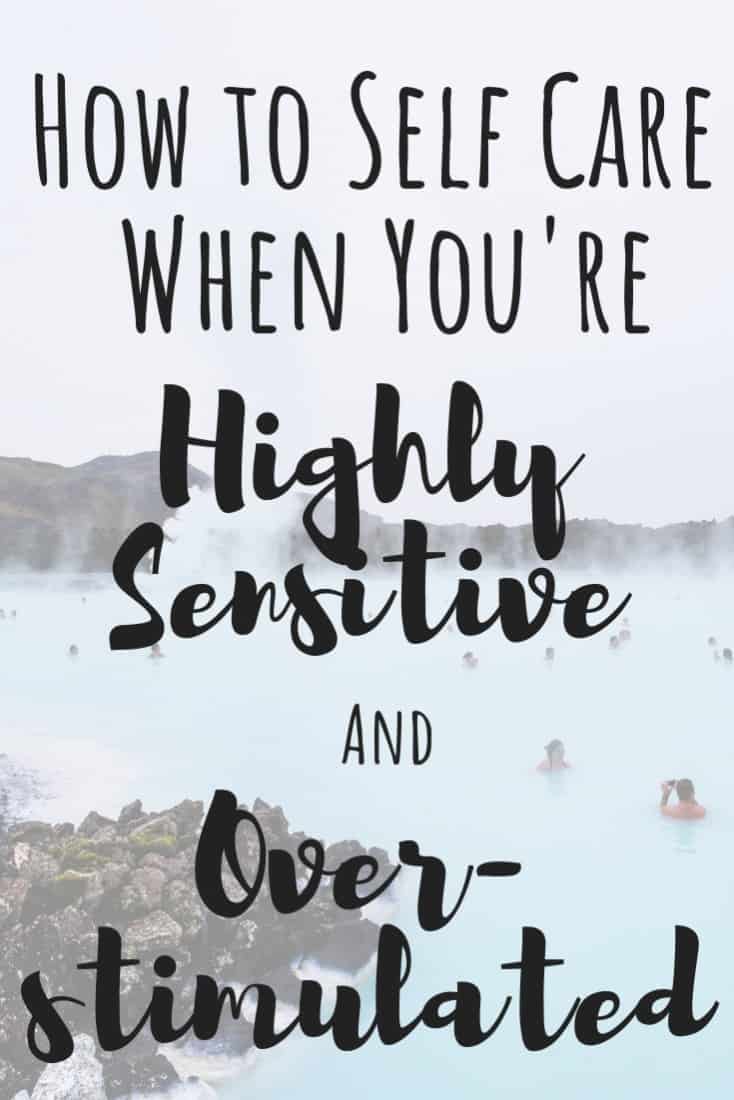 Take. A. Break. I can't emphasize this enough. If I try to power through that feeling, I start getting really irritable and zombified. I'm miserable and everyone around me gets miserable too because I'm more vocal about my misery. Find the quietest space you can and do something less stimulating. Lay down. Play with dogs. Read. Meditate. During this break, I don't even listen to music because it's like my brain just can't handle more noise. Just chill.
Practice Mindfulness. I do this on my break, but I also do it in the environment itself. On Thanksgiving, I leaned on my husband, closed my eyes, and started trying to listen to the space between words in a conversation happening beside me. Then I shifted and tried to pick out the sound of my husband's breathing over the noise in the environment. It was calming and eased the stimulation.
Stay away from the middle of the crowd and the loudest people. The middle of the group is the loudest part of the environment and it's also the most chaotic. I find that too much time in the middle makes me feel like I'm going to pass out. In every group, there's always the one or two people that laugh so loud you could probably hear them across town. I stay away from them too. I tend to keep to the outskirts of the group and talk to the quieter people or play with the baby in attendance. It's a bit less stimulating than hearing someone practically scream a funny story in my ear.
Get The Pressure! This year, after the party, I tried something new and it was better than I expected. If you've been reading my blog, you've heard about my weighted blanket that I'm still obsessed with. This year, I went a laid under my blanket and felt myself beginning to calm almost instantly. The pressure from it was grounding and soothing so much so that for the first time that evening, I started to relax. If you don't have a weighted blanket, this is my favorite because it's made well and it's cheaper than others I've found.
Sleep. Lots of sleep. And Rest. That night and into the next morning, I slept like the dead. When I woke up, I was still so tired I didn't want to move. I napped that day. I watched tv (on a low volume because my mind still said no to noise) and read fun things that day. I didn't use social media. I didn't write. I didn't do anything mentally or physically stimulating because my mind and body were still on strike. I took it easy to catch up on rest and I needed it.
The effects of the overstimulation lasted several days for me this go around. That's why you haven't seen me on social media and it's why I haven't posted in a week-ish. I've needed that time to get myself back into a groove.

A lot of people struggle with judging themselves for getting this overwhelmed or needing this much time to recover but one thing I can tell you is that, had I added judging myself on top of this overwhelm, I would still be struggling to make it through the day. I've got another post coming soon about radical acceptance where we will delve into this topic a bit further and I'll give you some great skills-that-kills on reducing the emotional suffering that comes from self judgement.

That's coming soon, for now, I have a feeling that as we approach an even more overwhelming holiday season, these tips may come in handy.

How do you handle the over-stimulation? What tips would you add?