This post contains affiliate links.
It's the pinnacle of the ADHD symptom trifecta for most adult ADHDers: Inattention. Translation: Mental Overwhelm due to the 50,000 open mental tabs that keep opening randomly, leading to difficulty getting anything accomplished, paying attention to the little things like driving between the ditches, and zoning out in the middle of important tasks or conversations.
Such a joy (I hope you can feel the sarcasm). When your computer has that many tabs open it's way more likely to crash. Pretty good analogy for the ADHD brain. Except our version of crashing is usually either getting overwhelmed and shutting down or getting overwhelmed, then distracted by something else and either way, getting little to nothing accomplished. Not for lack of trying though. In fact, we're usually trying harder than anyone else (and research has proven that with brain scans) but still accomplishing little to nothing.
Thankfully, I've found some helpful strategies to manage the overwhelm, reduce the open tabs, and get sh*t done. And because (like many ADHDers) I am kind and generous (no pride here 😆) I'm sharing them with you. You're welcome.
When it comes to improving working memory and focus, there are some necessary ground rules.
Alright, ground rules just sounded fun. Really, it's more like basic foundations. These physical interventions are necessary to improve your mental flexibility and function.
They are:
Exercising Regularly
Balanced and Regular Eating
and Managing Stress
Lucky for you I have at least a post on a couple of these topics already in case you need help in one of these areas.
Moving on…
To organize your mind, we need to start by taking a look at the things that will interfere with your focus so we can manage those.
Multitasking…managing distractions…those are just two of the things that can hinder our ability to focus. I'll be adding more later but lets start with the two, shall we?
Multitasking is basically a synonym for mindLESSness.
That goes for anyone. As a society we seem to value the ability to multitask but we really shouldn't. We think it means to multiply our attention but it is really to divide our attention between two things so that we are only able to give time, energy, and attention halfheartedly at best.
For the ADHDer, it also means we are more like to make errors, forget important things, on get overwhelmed and shut down. ADHDers and neurotypicals alike should say no to multitasking.
As much as we can that is. We all sometimes have to divide attention between dinner and screaming children (which is why dinner seems to get burnt so often, or in my case catches on fire…but that's another story).
You have to have a plan for distractions.
Obviously, you can't plan for all of them. Unless you have a panic room at your disposal, that is. One where no noise or interruptions can come out of the blue and carry you away into the magic of your thoughts.
But there are some common distractions that it's helpful to have a plan for. Like social media. I can't be the only one who has 500 things to do but gets caught up on Facebook for hours on end, thereby getting nothing accomplished and feeling frustrated. I've learned to put my phone on silent. (This, however, is where those handy tiles come in because silent mode means I can't call it to find it when I inevitably lose my phone).
I also can't concentrate when there's noise going on around me (unless I'm at a coffee shop, oddly enough). I've used ear plugs; I've even been known to put my hands over my ears to try to block out noise and think. One of these days, I'll invest in noise cancelling headphones. I keep hoping a company will give me a free pair in exchange for a review. That might be wishful thinking but at least you can see now why I like to get lost in my thoughts 😂. Regardless, blocking out noise, even with a sound machine (I have this one) is really helpful.
Identify your most common distractions and create a plan to minimize their reach.
Now on to the good stuff: Here are some strategies to help your ADHD brain stay focused.
Somehow I keep finding new things that I need to be doing. I learned a while back that I have to keep a to do list (and had to engage my creative problem solving to figure out how to remember the to do list). But when you keep adding and adding and adding to the list, it gets overwhelming.
The overwhelm sometimes feels paralyzing. Where do I start? I have to do all of this and I don't want to do any of it! It's so much! How do people do all of this? Sound familiar?
I realized that my to do list wasn't enough mental organization for me. I started planning out my day. If you're like me, your planning still has to be flexible. I mean, I planned on writing this post this morning but this morning decided that I actually had enough of an interest to start working on my taxes that not doing so would be squandering a very rare opportunity. Taxes are the worst and putting the off and getting overwhelmed is what led to my ADHD diagnosis last year. Flexibility is a must.
That being said, I write my to do list, then I start prioritizing. What has a deadline that's running up on me? What has the biggest impact if it doesn't get done soon? What am I the most interested or excited about doing? What is going to take me the most amount of time? What requires a crazy amount of concentration and what can be done while I'm watching TV?
I ask myself all of these questions in order to decide when to plan on doing the tasks. I generally have several drafts because the first one looks like chicken scratch with random ideas written everywhere. Once I have a clearer idea, I re-write it to make it easier for me to read and refer to. Here's an example; it was my plan for today (which I wrote last night):
Ignore the scratches. My favorite toddler was having fun with my notebook and made it more fun.
I don't always accomplish everything on the list, and most days that's ok. I'll just add it to the next plan that I create. I often find it helpful to get a rough idea of when I plan to do other tasks that are likely try to distract me. So, not pictured on the list, I'm planning on working on some classes to create which I really want to do and could easily get distracted by it when I'm doing something less interesting like the notes I'll have to do later this week. I do a rough draft plan of my week that looks like this: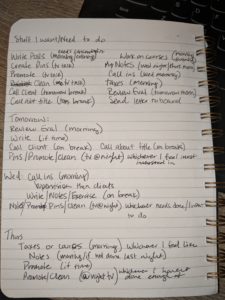 Doing this has been helpful so when my brain starts panicking about getting taxes or courses done while I'm working on notes for work, I remind myself that it's already on the schedule and I can relax. If my brain comes up with something I don't already have on the schedule, I'll add it to my to do list and later that night I'll figure out where to fit that in to my schedule. This has helped reduce the overwhelm.
If you struggle to remember to look at your plan, set a reminder on your phone. I set reminders and I email myself to help with this. I also email myself if I am not near my to do list when I think of something I need to add to it.
Did you know that Creative Problem Solving is a synonym for productivity?
We may struggle with attention and, by extension, productivity, but one thing ADHDers tend to me good as is creativity and problem solving. Put that superpower to good use. Ask yourself, "What can I add to my situation/environment, etc… to help me make this more interesting to me?" Because when it's interesting, we are much more engaged.
I did this in middle school without realizing it was a coping skill. 8th grade science was horribly boring. The teacher's voice was monotonous, the topics weren't as interesting as they could have been, and I had mastered the art of looking like I was paying attention…but I was bored.
So I decided that I'd start trying to think of a question that my teacher wouldn't be able to answer (related to whatever he was teaching on). That required me to listen more carefully and look for things he wasn't teaching as thoroughly. I was suddenly more interested because I had a goal (not inherently a mean spirited goal, it's not like I was going to humiliate him when he couldn't answer my question). It was just an exercise to see if I could do it and it made it more interesting.
The added bonus was he was very excited that someone seemed to be showing enthusiasm for the lessons. I had to ask a lot of questions to find the one that finally stumped him. I made it more interesting and it helped me with the class. Ask yourself how you can make what you are doing more interesting or more enticing to you.
Do the Brain Dump.
That sounds like some crazy new dance the childrens have thought up. It sounds every bit as good as "the floss" 🙄 If you are out of the loop, yeah that's a new dance move. The Brain Dump sounds better.
If you haven't heard of the brain dump, it's a great strategy for when you are feeling overwhelmed. The idea is to write out everything that is swirling around in your head. Don't worry about how it looks, how it's organized, if everything is spelled correctly in full sentences, or grammatically correct. Almost like a "stream of consciousness" write out everything that is bombarding your mind until you start to feel better.
Once everything is on the paper (and you are feeling calmer) THEN you can go back and organize it. The first page in my pictures above are like a baby brain dump. You can write all the things you need to get done, all of the random thoughts that keep trying to butt in, all of the frustrations, impulses, whatever. Just write it down. Then organize it. You'll thank me later.
For better focus, get your butt outside.
Seriously, research has shown that nature improves concentration and focus. Apparently, even if you can't get outside, you can have similar effects by allowing yourself a break to look out the window. (But let's be real, going outside is better). Take a walk on your lunch break, see if you can do something productive outside, whatever you can do to get some sunshine. Apparently our brains are just built to soak that up and use it to improve our attention.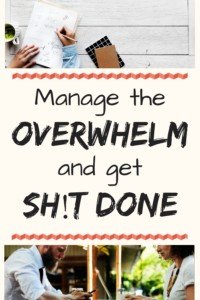 These are the beginning. There is so much more to be said about improving attention.
But start here. These are some of my all time favorite strategies for being more productive and feeling more mentally organized (hear less emotionally overwhelmed here).
Oh, there may be a course coming from this ADHD brain on this subject in the future. We'll see how closely I can stick to my weekly plans for working on it 😂
Try these out and tell me how it goes? Anything you'd add to help some fellow ADHDers out?
Want More?
I took this course through Udemy and found it incredibly helpful. It's produced by a mental health clinician who has both Autism and ADHD talking about practical strategies to be more productive and manage motivation. It found it incredibly helpful and I know you will too!
Bonus: Sometimes Udemy has a great sale on this course. I bought it for like $15 dollars and it was well worth it's base price but a sale is always nice 😉
As always, Let me know how you like the course if you decide to take it.
Tell me, what has worked for you? Where are you biggest struggles? Let's chat. 😉