Being a perfectionist is painful and overcoming perfectionism is a beast. If you've been there, you know what I'm talking about.
If you can relate to the pit in the stomach and the knot in the chest when you make a mistake, you might be a perfectionist.
That mistake feels like a neon sign on your forehead flashing "IMPERFECT! DEFECTIVE!"
The voice of perfectionism rings of disgust and self loathing, "Your a failure. Pathetic. What's wrong with you?!" It's exhausting.
Perfectionism is a Bigger Problem Than You Realize
Isn't perfectionism something we all pretend is a bad thing in job interviews when asked about our greatest weakness? It's the safe answer because we all know it's a strength masked as a weakness…right?
Nope.
Perfectionism is linked to increased depression, anxiety, eating disorders, substance abuse, self harm, and suicide. I wouldn't call something that increases your odds of dying a strength. I would call it pain.
This pain is shame and anxiety in disguise and it sucks your soul. Overcoming perfectionism is hard work.
How did we ever get the idea that it's really a good thing?
What is Perfectionism, really?
People have argued that it can be adaptive. I would argue that if it's adaptive it's not really perfectionism.
Setting a challenging goal, aiming big…isn't perfectionism necessarily. If a person can set a big goal but count any forward progress as success while continuing to work toward more…that's adaptive. It's healthy and it's the hallmark of the high achievers.
But it isn't perfectionism.
A perfectionist's goal is often unattainable and progress is not important, Only the perfect outcome is relevant. Anything less than that is a complete and utter failure that leads to self loathing.
That's not helpful to anyone.
Perfection Comes with Other Challenges
Perfectionism often comes with two other minions: low self esteem and procrastination. Both of these also lead to self loathing. Then there are the barriers to overcoming perfectionism, the irrational thoughts like:
"But I can't set my standards lower, that would mean I'm pathetic."
"She is so perfect (according to her Facebook profile). Why am I such a loser?"
Perfectionism tries to make our accomplishments and failures the measure of our self worth. But also leads us to disregard our accomplishments because "they weren't real" some how.
Are you beginning to see why perfectionism is linked to so many mental and physical health issues?
How to Overcome Perfectionism
This is no easy feat. Perfectionism is truly a monster that doesn't go down without a fight. It's often rooted in the pains of the past.
But no monster is invincible and if you are willing to fight the good fight even when it feels like it's a lost cause, you may be very well able to overcome perfectionism.
Overcome Perfectionism by Increasing Your Awareness
Heard of a cost/benefit analysis? This is one of those strategies that are really easy to get lazy with and not even realize it. But if you do it with a deep and uncomfortable honesty, can actually be pretty helpful.
How has perfectionism hurt you? Go beyond the obvious things that you already know and stick with the question.
Keep your mindset as a caring curiosity rather than a self loathing accusation, until new insights come. And do the same with how perfectionism may have benefited you.
Yes, Perfectionism has Probably Benefited You Somehow
People often look at me like I've grown three heads when I ask them to think about how something so painful has been helpful to them. But the truth is the human being rarely–if ever–continues to engage in something that has NO benefit to us.
Take substance use for example. It obviously causes great problems and pain in a persons life, what benefit could it possibly provide? Maybe a break from emotional torment. Perhaps the chance to forget about how painful life has been?
Sometimes the benefit we get from harmful coping practices is the opportunity to avoid other emotions. But avoidance keeps the emotions and the perfectionism stuck.
I'm not saying your benefits have outweighed your costs, only that they are there whether you admit to them or not and discovering them can help you better understand part of why something that hurts so much continues to stick around.
Overcome Perfectionism with Self Compassion
I've written several times about the benefit of self compassion and what I have here is pieces of a much bigger framework. Start with what I have here but then check out The Mindful Self Compassion Workbook by Kristen Neff.
1. Talk to yourself the way you would a friend
The self loathing? Cut it off. Ask yourself, if my friend were talking to me about a "failure" like this one, what would I say to her? How would it sound? Would my tone be warm and comforting or harsh and condescending?
We often have the awareness that telling our friend how stupid she is for making an error is wrong but don't see it the same way when we say it to ourselves.
Pain is pain and abuse is abuse whether you say it to yourself or a friend. This little change makes a HUGE difference. It's a powerful way to overcome perfectionism.
Try it. Write down the negative self talk you usually hear when you make a mistake. Then write out how you would talk to your best friend if she was upset about making the same mistake. How are they different?
And, of course, practice talking to yourself the way you outlined talking to your friend.
2. Look for the common humanity
It's easy to get into this crazy vortex where we are the only idiots in the world that made this mistake and how stupid are we anyway that 8 billion other people aren't this stupid?
Like the day I drove away from the gas station, forgetting that I was in the middle of pumping gas. It's easy to think your the only person who's done something that dumb.
Especially when you see the way people are looking at you. And the shame piles on.
But the reality is we are never the only people who have made whatever mistake that we made. And chances are everyone who's made this mistake felt similarly pained because of it.
Remind yourself that other people have made this mistake, too. And you aren't alone in your feelings. It's easier to accept a mistake when we know that other people have made it, too.
3. Practice radical acceptance
Radical acceptance is a tough concept to explain for me and I think a tough one for people to fully grasp. It has a deeper meaning than it seems to.
To radically accept is to stop fighting reality. And to stop fighting means to suffer less.
It is to fully let go and accept what is. It means that we stop recreating the ways it could have been prevented or turned out differently.
To have radically accepted something is to let go of that "yes it happened but it shouldn't have happened" because that is fighting reality and it increases your suffering.
We fight reality in order to avoid the feelings of what it means to us that reality turned out the way it did. As you are accepting what is, you have to let yourself feel the emotions.
Just remember the self compassion as you work through those feelings. Emotions burn out when they don't have negative self talk fueling them.
The Blocking Beliefs of Radical Acceptance
Many people find they have barriers to radical acceptance. I think of these like blocking beliefs. They are thoughts like, "If I accept it that means I'm condoning it." or "If I accept it that means I agree with it."
Neither of those are true. To accept means to agree that reality happened the way that it happened and that nothing you do, think, or feel will change what has already happened.
It does not mean that you have to believe that it was good that it happened or the person who hurt you was justified.
Change Your Definitions
To overcome perfectionism, it's not that you have to lower your aim. It's that you need to change your definitions of success and failure.
In the perfectionist's mind:
Success= Perfection
Failure=Anything else.
This is what you call black and white, all or nothing thinking with an extreme and unhealthy conclusion.
Instead, here's what I've come up with for the two terms. Play with your own definitions and see what you can come to but in the mean time, feel free to use mine if you wish.
Success: the ability to adapt and to make something work even if it isn't exactly what you were going for. Endurance is a synonym.
It's perseverance and it's progress. A step forward is a success, no matter how small. Sometimes even a step backwards is a success if I choose to persevere and use it to adapt and make the most of what I have.
Failure= to give up. It's something that happens or a choice that is made–not a personal flaw. It is not indicative of the person being a failure. Everyone fails.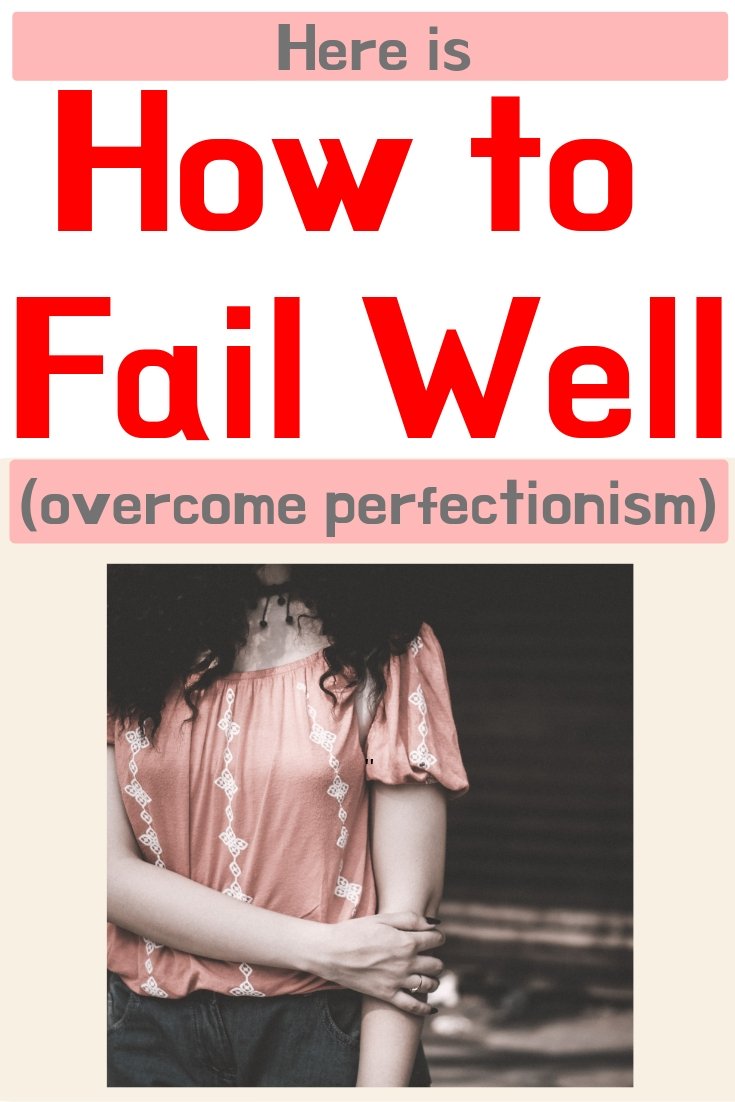 Everyone Fails
You've heard that Thomas Edison tried to create the light bulb thousands of times before he actually got it right? He wrote
"I have not failed. I've just found 10,000 ways that won't work. I am not discouraged because every wrong attempt discarded is another step forward."
Colonel Sanders created KFC Chicken but it took him over 1,000 failed attempts before he created the winning recipe.
JK Rowling, creator of the Harry Potter series, has a similar experience with failure. Have you ever read the commencement address she gave to graduates at Harvard?
She titled it The Benefits of Failure. She told them:
"It is impossible to live without failing at something, unless you live so cautiously that you might as well not have lived at all – in which case, you fail by default."
And remember, when you feel like you've failed or you did experience a failure, your in good company.
JK Rowling, Thomas Edison, Michael Jordan…the list goes on. This is where you can pull in that self compassion piece and change your understanding of failure.
To Overcome Compassion,You Need to Use Your Support Network
It's been said that the antidote to shame is human connection.
When we reach out to someone that cares about us and share the shame, we chip away at the block of shame we have been carrying. Experiencing acceptance in the face of shame changes the experience.
Share your experience with the people you love and love you back. Doing so reduces the emotional overwhelm and the negative self talk. A lot people get stuck in a spiral where they worry about burdening other people.
If you read my post on Stress, you know that when we reach out to other people for support it benefits you both. It means you aren't a burden, you're a blessing.
Overcome Perfectionism with Mental Health Journaling
Journaling has become my favorite way to work through painful emotions and change ingrained responses like perfectionism.
Some people have found that journaling can make them feel worse. If that's you, read these three articles I wrote on journaling. If you hate the practice and find it pointless (like I used to), read the articles. Start with the mindset post. It's really important.
#1 Journaling: Mindsets You HAVE to Adopt
#2 Journaling: Easy and Helpful Prompts
#3 Journaling: My favorite Strategies
Keeping a journal is another way to improve your awareness of perfectionism and how it keeps holding on when you keep trying to shake it.
It can also help you move through the shame and self loathing if you find that you are having a hard time using the self compassion in your mind. Putting it out on paper is an incredible release that can help you learn how to overcome perfectionism.
I used to hate journaling because I thought it was redundant and pointless. I was wrong. What I discovered in the practice made me change my mind as you will see in my posts above.
Perfectionism is equal parts shame and anxiety and journaling is a good way to understand and work through those emotions. You are likely missing out on a huge mental and emotional benefit if you don't journal. I know I was.
Overcoming Perfectionism Take Time
This is a small post on a big topic. Perfectionism is like a wad of chewing gum in your hair. It holds on for dear life and you have to pick it out a little bit at a time because you don't have any mayonnaise or peanut butter on hand.
Don't get discouraged if it's hard to shake–it's a super villain and they don't go down easy but with the strategies above and a good therapist, you can win the battle and have a new perfectionism philosophy that works for you.
Don't give up.
Are you a perfectionist? Tell me about it in the comments! Let's support each other and overcome that shame together.
Tell me, how are you fighting your perfectionism?